ARIANE TERRELL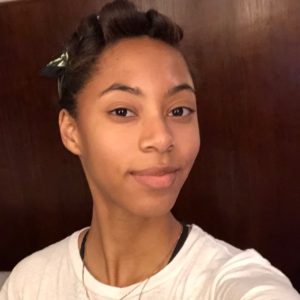 Ariane Terrell is a Theatre major and a Media Studies minor with a concentration in Emerging Media. Ariane is interested in pursuing a career in stage management for theatrical productions. Her previous experience includes an internship as production management at The Public Theatre, along with stage manager and assistant stage manager work for Hunter College productions, such as Mother Courage and the current CoLab production of Eurydice. Ariane also worked as stage manager for the one-man production called The Unicorn that Discovered Self-Love— presented by Showdogs, a theatre group created by CUNY alumni. She has recently become a 2020 St.George's Society scholarship recipient.
AUSTIN CARVEY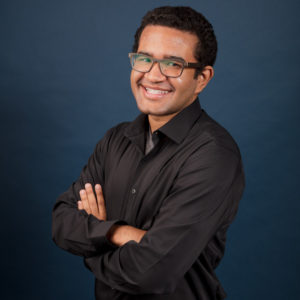 Austin Carvey is pursuing a BA in Africana Studies with a Minor in Computer Science at Hunter College. After witnessing the white supremacist rallies in Charlottesville, VA back in 2017, and thereafter experiencing institutional failure to address racism at his previous college, Austin was moved to act as a campus social justice organizer in California and Washington D.C.. Impacted by the cultural arts produced by students in social justice movements, he decided to pursue Africana Studies at Hunter with a focus in African Diasporic visual arts along with poetry and prose. At Harvey Mudd he served as an executive board member for the Black Student Union and social chair for the Latinx Student Union and has served as secretary for the Hunter Caribbean Students Union. He interned at Café con Libros Press, a hybrid library/cultural arts center in Pomona, CA.

CHARISMA LUCARIO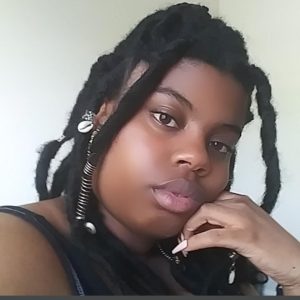 Charisma Lucario is a 25-credit music major, currently in her senior year in the Hunter College music department. Charisma has always had a passion for music, and is excited to learn more about the inner workings of musical productions and performances. Charisma has worked for two non-profit organizations; one being a branch of the New York Public Library, and the other, an organization called Housing Works which fights for people living with HIV/AIDS and helps them gain access to quality housing and healthcare. In recent years, Charisma has received an English certificate and multiple Dean's List and President's List awards. She additionally completed an Associate's Degree in Performing Arts in 2019.

ESTHER NOZEA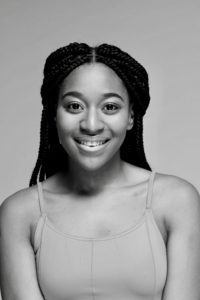 Esther Nozea is pursuing a Bachelor of Arts degree in Dance with a minor in Psychology, and is a club officer for the dance department's Dance Now club positioned as Treasurer. Continuing her dance training once entering college, she has had the opportunity to perform many repertories by remarkable choreographers through Hunter College. Esther has interned at Dance Media, the publisher of Dance Magazine, Pointe, Dance Spirit, and Dance Teacher, as a Sales Intern and is currently working part time on their marketing team as a Commercial Coordinator. Esther has also participated in Peridance Capezio Center's work-study program and volunteered at Dancewave Through College & Beyond. Esther is very thrilled to have the opportunity to be a part of the Hunter Mellon Arts Fellowship program where she will receive professional development and mentorship to further her knowledge in the arts and arts leadership as an aspiring dance artist.

GENESIS SALINAS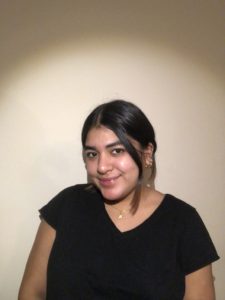 Genesis Salinas is a 21 year old Honduran-American artist based in Queens, New York. She is currently pursuing a Bachelor of Fine Arts Degree in Studio Art at Hunter College, with a Concentration in Photography and a Minor in Art History. For the past four years, she has been working with film photography, and she continues to shoot 35mm and 120 format. She is a member of the Photographer's Collective at Hunter College. Genesis has interned at the Summer Arts Institute as a teacher's assistant, as she is interested in becoming a future art educator. Most recently, she has been awarded the Mellon Arts Fellowship at Hunter College. 

GILLIAN OCHOA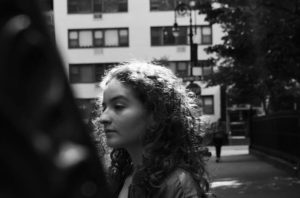 Gillian Ochoa is a senior majoring in Studio Art, studying in the BFA program. They're artistic practice uses humor to explore their personal experiences as a part of collective narratives of trauma and injustice. Gillian primarily works in sculpture and new media. They've interned in various art spaces, including the Brant Foundation, Sperone Westwater, and The Appraisers Association of America. Gillian has been an arts ambassador for three years with the Office of the Arts. 

JESSICA DIAO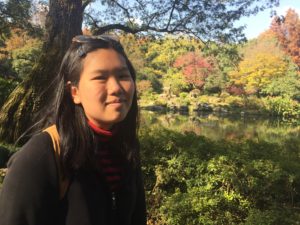 Jess Wang Diao is an Emerging Media major and a Asian American Studies minor. She is interested in the democratization of art in the digital realm as well as in public spaces. Jess has held internship positions at the Queens Historical Society and Asian American/Pacific Islanders in Philanthropy (AAPIP); where she worked closely with the Interim Vice President of Programs to revitalize social media presence, and helped in research and data collection efforts. She is excited to see where the Mellon Arts experience will lead her.

GABRIELA RODRIGUEZ-CRUZ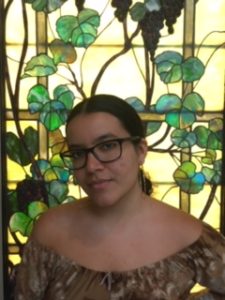 Gabriela Rodriguez-Cruz is a 60 credit Vocal Performance major in the Music Department at Hunter College. Gabriela has always had a deep appreciation for all areas of the arts, especially as an alum of the LaGuardia High School of Music & Art and Performing Arts. As a vocalist herself, she would like to work at an arts organization that revolves around music, such as Carnegie Hall or Lincoln Center.
As a music student, Gabriela has been a member of both the Hunter College Choir and the Hunter College Chamber Singers, where she has had the opportunity to perform Mozart's ​Requiem​ and Vivaldi's ​Gloria​, respectively. She is also a recent recipient of the Scholarship and Welfare Fund Award. Gabriela has interned at the Morris Heights Health Center, where she helped patients make appointments and organized the schedules of the health professionals working at the Center's various locations.
LAURENCE PAUL-STUBBS
Laurence Paul-Stubbs is a Clinical Psychology major with a double minor in Sociology and Religion, currently in her senior year in the Macaulay Honors program. Laurence has been involved in the arts since she was a child – more specifically, music and dance. Throughout her years she participated in many intensives at places such as and Dance Theater of Harlem. As she entered Hunter College High School, I was selected for the Harlem School of the Arts Prep Program for piano and dance. Besides her experience I the arts, Laurence also acted a tutor/mentor for children in her community at a community center. In addition to this, she worked at The Paul Institute for Mainstream Services, a nonprofit S.E.I.T. program for preschool aged children with special needs.

MACY RAJACICH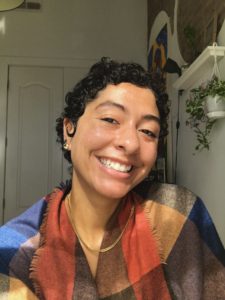 Macy Rajacich is an artist from Minneapolis, now located in New York City. She is a student at Hunter going into her senior year studying Painting and Africana Studies. Although her focus is in painting, she also works with pen and pencil, graphic design, photography, and constantly explores new mediums. One of her favorite art genres is surrealism and she loves to explore surrealist paintings, drawings, and film.
COHORT 3    (Spring 2019 - Fall 2019)
Chelsea Arenas is pursuing a dual degree in Studio Art and German. She has interned at MoMA and at the Brooklyn Museum. Chelsea is passionate about bridging the gender gap in the visual art world, and it has driven her during her time as a Mellon Arts Fellow, where she interned at the Cooper Hewitt Smithsonian Design Museum. After graduation, she plans to pursue her Master's degree in Germany, where she intends to study the work of Franz Marc and Anselm Kiefer.
Aissatou Bah is a Documentary & Film major and current Muse Scholar. In the last two years, Aissatou has gained experience working with her on-campus magazine. She has recently interned with the WABC7 in their marketing department and the Metropolitan Museum of Art, where she assisted in educational programming and upcoming exhibitions. Aissatou recently studied abroad in London. She is completing her Mellon Fellowship as an intern in the Education Department of the Metropolitan Museum of Art.
Maimuna Begum is a sociology major with a minor in human rights and Asian American studies. She is a Thomas Hunter Honors Scholar, Grove Scholar, and St. George's Society Scholar. As the daughter of Bangladeshi immigrants, Maimuna connects her experience as a Muslim and as a first generation American to the arts through her work with the Muslim Inter-Scholastic Tournament. She would be only the second in her family to graduate college, and aspires to be the first to attend graduate school. This year, she interned at the Brooklyn Museum as a part of the Hunter Mellon Arts Fellowship where she was a part of their development team and also served as an intern to the deputy director.
Devin Halbal is a Media Major, Minoring in Human Rights. Devin is a trans woman of color, and is committed to providing greater visibility for alternative voices in media. Devin worked as an Education Intern at The Frick Collection during her Mellon Fellowship, where she assisted with public events such as First Friday and sketching programs as well as delivered her own talk on the Fragonard Room. Devin appreciates art and hopes to continue working in the arts.
Anjelica James is double majoring in Music and English with a concentration in Creative Writing. She is a Hunter College Muse Scholar, and part of the Thomas Hunter Honors Program. Her passion for music began at the age of six when she began playing the violin, later singing, and eventually involving herself with more music and media production. As a participant in the Mellon Arts Fellowship, Anjelica has been able to integrate her knowledge of both music and production as an intern at National Sawdust in Williamsburg, Brooklyn. Anjelica hopes to continue pursuing the arts in a graduate program in the near future.
Yanitza Lee is a music performance major with a concentration in Classical voice and is a part of Hunter College's Golden Key International Society Chapter. At Hunter College, she has been a club officer for the Music department's Intonation club as the positions of secretary, president, and treasurer. Yanitza was a part of Hunter College's most recent production of the opera "Patience and Sarah." In the past year, she has gained experience interning as a model senator for the Model New York State Senate Session Project and as a Human Resources intern at the startup company Jopwell. The Mellon Fellowship gave her the opportunity to intern at the Bloomingdale School of Music on the Upper West Side. Yanitza has since been hired at the Bloomingdale School of Music as an Education and Outreach staff member.
Joshua Martinez was first driven towards the arts by his high school jazz band. Once beginning his college career, he discovered a love for dancing and acting. Joshua is currently an active member of Hunter College's Dance and Theater Departments. In the past year, he has been involved in student productions, with a role in the play "Dutchman;" and as a leading role in Barbara Bosch's production of "As You Like It." Joshua's Mellon Arts internship at Carnegie Hall has taught him just how impactful arts outreach can be. This has motivated him to continue further in the arts and pursue excellence, not for his own sake, but to touch and impact the lives of others in a meaningful way through art.
Demie Medley is a Theatre major and Dance minor. She is the co-founder and current President of the Black Student Union at Hunter College. Demie has taken acting and directing courses as well as stage managed for multiple productions at Hunter College. Demie interned with the Classical Theatre of Harlem during her Mellon Fellowship, where she worked as a production assistant and an intern for the Development and Marketing department.
Elda Monterroso is a creative writing major, and is on the Hunter College Dean List. In the last year as a Mellon Fellow, Elda gained experience as an Institutional Development intern at the Chelsea-based Atlantic Theater Company. She currently works part-time as a research assistant to best-selling author Bruce Feiler. Elda is grateful to Hunter College for its involvement in her professional and personal development through the S.E.E.K. program, the Mentorship Program, and the Transfer Achievement Scholarship.
Renata Pereyra is a political science major, human rights minor, and Roosevelt Scholarship recipient. Renata's family escaped from Peru when she was a child, and the support she received upon arriving in the US motivated her to pursue a career path in public policy. Renata has worked in policy-making, non-profit art organizations, and as an intern at NY City Council. As part of the Mellon Arts program, Renata worked as the sole intern at the Metropolitan Museum's African Art Department in preparation for a new exhibit that opened in January 2020.
COHORT 2      (Spring 2018 - Fall 2018)
Bethany Casamayor completed her BA in Fine Arts with a specialization in painting.  She enjoys a fulfilling schedule working as a College Assistant for Lehman College and as a Hunter College Student Ambassador for the Arts.  Bethany is a member of the Arts Student League of New York.  Her interests include art galleries with Afro-Latino works and art from the African Diaspora. During her time as a Mellon Fellow, she interned at The Drawing Center.
Emoni Clouden graduated from Hunter as an Art History major. Emoni is also an airman in the Air National Guard where she is a culinary specialist for the federal military reserve force.  Emoni is a professional model who has appeared in major magazine publications and walked the runways of New York Fashion Week, as well as Johannesburg, South Africa Fashion Week. She intends to pursue an MA in Art History, with an emphasis in African art and art of the African diaspora to eventually become a museum curator. During her time as a Mellon Fellow, Emoni interned at The Brooklyn Museum.
Isabelle Fernandez recently interned with The Metropolitan Museum of Art where she assisted in educational programing and upcoming exhibitions.  She gained experiences as a teaching assistant with the Hudson Guild at P.S. 191 and also interned with the Society of Illustrators.  Isabelle graduated as a Studio Art Major and a Muse Scholar from Hunter. As part of the Mellon Arts Fellowship, Isabelle interned at The Frick Collection. Upon her completion of the fellowship, The Frick asked Isabelle to continue as a contractual museum guide and as an educator, leading guided visits for school-age students and staffing Wednesday Atelier, their gallery sketching program.
Joshwald Martinez served as secretary of the Hunter Theatre Company during his undergraduate career.  He majored in Theatre, as well as, Africana & Puerto Rican Studies. He was also a member of the Thomas Hunter Honors program. Joshwald has interned with Teatro SEA, managing social media and coordinating cultural vendors for the Arte Pa'Mi Gente outdoor festival. He additionally interned as a Mellon Fellow at The Public Theater for their Special Artistic Projects departmement.
Ana Paredes has experience working with sets and costumes, as a backstage intern with Vital Theatre. During her time as a Mellon Arts Fellow, she interned at the Atlantic Theater Company in their General Management and Finance departments. She graduated as a Creative Writing major and credits her theatre arts high school with instilling a passion for writing within her.  The child of immigrant, Spanish speaking parents, Ana's responsibilities from a young age, have been as a translator. Ana worked as the interim School Marketing Manager at Atlantic Theater Company following her Mellon internship. Ana was thereafter offered a position as the General Management Fellow at Playwrights Horizons.
Alyssa Regent is a Caribbean born composer from the island of Guadeloupe. She has composed works of small instrumental pieces and participates in concerts as a pianist.  Alyssa studied composition with the Julliard School's Evening Division. At Hunter, she completed her degree in Music Composition and dreams of pursuing a career composing in a variety of musical genres, as well as, leading an arts organization. As a Mellon Arts Fellow, Alyssa had the opportunity to intern at Carnegie Hall, assisting with programs in their Weill Music Institute.
Jenny Shin interned at the Cooper Hewitt Smithsonian Design museum during the Mellon Fellowship. Before then, she had interned in the Public Relations and Marketing Department at The Rubin Museum of Art. She graduated as a Media Studies major with a minor in Art History, two areas of study which she believes directly result from a personal interest in the intersection of more practical skills and creative thought.  Jenny was a recipient of the Full Merit Scholarship in Hunter's Macaulay Honors College; and in 2017 she was awarded the Hunter College Office of the Arts Summer Internship Award.
COHORT 1      (Spring 2017 - Fall 2017)
Paule Aboite is a trained opera singer and actress with a wide array of performance credits from regional theaters, educational theater, and companies around New York City. During her time as a Mellon Arts Fellow, Paule interned at Carnegie Hall's Weill Music Institute, where she worked with their Artist Training Programs, including the National Youth Orchestra of the U.S., and Carnegie's wide array of social impact programs. Paule graduated from Hunter with a degree in Vocal Performance, and continues to work as a speech and dialect coach, lecturer, and freelance singer.
Leah Drayton graduated as a Hunter Muse Scholar with a dual degree in Media Studies and English. Leah's interest in arts and media began during her work at institutions such as Manhattan Community Board 11, Paper Jam, and Studio in a School. During her time as a Mellon Arts Fellows, Leah interned at Lincoln Center Theater. There, she supported the everyday operations of the Open Stages Education Program, as well as other education programming Lincoln Center Theater offers to young people around the city.
Milo Falconi began volunteer teaching art classes at local homeless youth shelters in Houston. Milo says that art has provided him with many opportunities, including access to school, work, volunteering, and partnerships with nonprofit agencies. Once accepted as a Mellon Arts Fellow, Milo interned at The Drawing Center, where he engaged in developing lesson plans for specific exhibits, and focused on community programming.
Susan Flores completed her degree as a Studio Art major, with a minor in Art History. Susan has experience from the NYU Steinhardt Ceramic department, her work at the Rubin Museum of Art, and the Van Der Plas Gallery, where she worked as a gallery assistant. During the Mellon Arts Fellowship, Susan interned at the Studio Museum of Harlem under the direction of the Assistant Curator, Registrar, and Senior Art Preparator. Upon completing her internship, Susan was given the opportunity to continue working for the Studio Museum of Harlem in their relocated offices.
Nikky Gonzalez graduated with a Bachelor of Arts in Art History. Her initial experience came from working at the Frieze Offices, the Bronx Museum of the Arts, and the Hunter East Harlem Gallery. Her time in the art world grew during her time as a Mellon Fellow, where she interned at the Cooper Hewitt Smithsonian Design Museum in their Drawings, Prints & Graphic Design Department.
Sabrina Garcia was a Mellon intern at the MoMA in the Exhibition Planning and Administration Department. Her work there provided support for staff on administrative and budget details for 40+ shows and around 5 tours. Sabrina graduated with a Bachelor of Arts in Humanities. She additionally was a scholar in Hunter's Now Program, The Solomon Bluhm Program, and the Thomas Hunter Honors Program.
Joyce Lim participated in a multitude of productions and events during her time as the President of Hunter's Undergraduate Theater Club. While completing her Bachelor's Degree in Theater, Joyce received the Anne Freedman Production Grant, Vera Roberts Foundation Fellowship, and the Lobianco Scholarship. During her time in the Mellon Arts Fellowship, Joyce was given the opportunity to intern at the Atlantic Theater Company. Joyce gained a world of experience during her summer term in the Company's Marketing Department, and fall term directly under the Production Manager.
Dorothy Rojas completed a successful internship at The Public Theater during her time as a Hunter Mellon Arts Fellow. As an intern, Dorothy supported the Director of Special Artistic Projects. She worked on a number of programs at The Public Theater, including The Mobile Unit (which toured performances to prisons, shelters, and other unserved communities) and Public Forum (The Public's humanities arm, producing one-night-only conversations as well as all post-show audience engagement content). Dorothy graduated with a degree in Studio Art.
Kiefer Rondina received his Bachelor's Degree in Dance Education, with a minor in German Language. He is a two-time recipient of the Ernst Hoffmann Memorial Award for excellence in German, recipient of the Mother's Day Scholarship, and a Member of NDEO National Honor Society of Dance Arts. Upon becoming a Hunter Mellon Arts Fellow, Kiefer fulfilled a dream of his— interning at Ballet Hispanico. Once his time at the fellowship had been completed, Ballet Hispanico offered Kiefer a part-time teaching assistant position.
Lachanda Williams always hoped to apply her knowledge and love of dance to help enrich her community. During the Mellon Arts Fellowship, Lachanda continued such trajectory by interning at the Dance Theater of Harlem. There, she helped develop the company's Dancing Through Barriers and Community Outreach Programming. Lachanda completed her Hunter career with a major in Psychology and a minor in Dance.